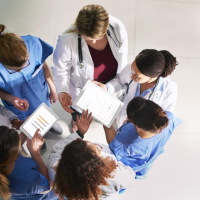 Cochrane Special Collection series: Opportunities for de-implementing low value healthcare
Cochrane Sustainable Healthcare Field has initiated an editorial collaborative project with Cochrane Argentina, Cochrane Chile, Cochrane Methodology Review Group, Evidence Aid, Cochrane Denmark and Cochrane Sweden. The project will produce a series of special collections assembling Cochrane reviews with the aim to create a platform highlighting ineffective or harmful interventions for to generate discussions of these interventions, and consequently actions to improve the sustainability in healthcare.
The first Special Collection in the series is titled: De-implementation of low-value health care: resource prioritization in the COVID-19 pandemic era is published today. This Collection is primarily aimed at healthcare professionals, healthcare policymakers and guideline developers. The Collection will be continually updated with new reviews.
The titles of the Cochrane systematic reviews included in this first Collection in the series are:
General health checks in adults for reducing morbidity and mortality

Routine preoperative medical testing for cataract surgery

Subacromial decompression surgery for rotator cuff disease

Percutaneous vertebroplasty for osteoporotic vertebral compression fracture

Transfusion thresholds and other strategies for guiding allogeneic red blood cell transfusion

Follow-up strategies for patients treated for non-metastatic colorectal cancer

Recall intervals for oral health in primary care

Routine scale and polish for periodontal health in adults
See also the accompanying editorial: Making wise choices about low-value health care in the COVID-19 pandemic; and Evidently Cochrane has also produced an accompanying blog 'Choosing health care wisely when resources are scarce.